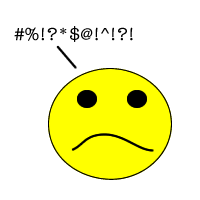 Dan from UK asks:
Is it appropriate for a blasphemous, foul-mouthed American character living in LA to repeatedly use the word "wanker" and its variations ("wank", "wanking" etc)?

Might sound silly but I know Americans who use this, but I'm wondering if it's an allowable swear in American cinema?

Thanks…
There is no profanity that is per se not allowed in a spec script. The caveat is that profanity should never be used to substitute for story nor should it be gratuitous to the story. Both are common mistakes made by less experienced writers. "Yipee-ki-yea…mother-fucker" is an exceptional piece of profanity that worked in Die Hard because it was truly an expression of John McClane and his overall problems – a tough guy in the face of a complex world that sometimes required something different. After that, a million specs tried using heavy profanity and most ended up where most specs end up, in the trash bin. Careless use of profanity is no different than any other careless work. On the other hand, in the right story, carefully used profanity can be an important part of storytelling.
As for the expression "wanker", it is mostly a British expression. I'm not sure the average American reader would even understand that it's profane. It is not really used much here. Your character would probably be seen as having some affectation if he or she relied heavily on it – but that may be the effect you're going for.