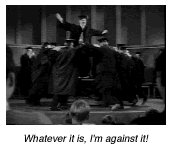 Sam from Philly asks:
I am an amateur writer, and I am looking to take a class, but I'm not sure which is best suited for me. What I am trying figure out, is the class offered by the New York Film Academy better or the same as a class at a local college? Thanks for the help.
Sam:
Honestly, I have no idea. I haven't taken any classes from New York Film Academy or from your local college. Nevertheless, for what it's worth, here's what I have looked for in the past when I took classes:
Experience of the teacher. I prefer to learn from instructors that have at least some reasonable professional experience.
Curriculum. I personally prefer courses that involve both writing and theory. All theory and it tends to mean very little. Many courses require you to write outlines, scenes and pages and subject them to peer review. This, in conjunction with theory, can be helpful. This is one of the reasons weekend seminars are not very effective from my point of view. You spend all your time on theory and have no guided practice. You walk out thinking you now know how to write a decent screenplay, but when you actually sit down to write, theory is just theory and you must face the same hard issues in your writing that you had before. There are no quick shortcuts to learning to write strong, professional quality work.
An important caveat to peer review is that in a screenwriting class, most of your peers are awful. They will never be good writers. You are taking input from people who, for the most part, don't have a clue. Consider every word they say, but think through it and make your own judgments about your work. One of your goals as a writer is to surround yourself with quality input as quickly as possible. Bad input is sometimes distracting and often disheartening. At an early stage, it is a necessary evil, but you must make it through the fire.
Tuition. Do not get sucked into paying a fortune for any course, especially a short course, that promises to deliver huge results. It won't happen. Short courses are like books – you get a lot to think about, but you still have to work it out for yourself through lots of writing over a long period of time. Tuition for screenwriting courses should be in line with other similar college courses.
Good luck finding a course.