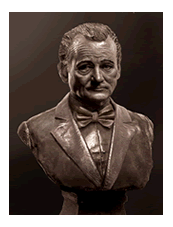 Jeff from "outside L.A." asks:
Hi. Enjoy the blog. I have a fairly simple question for you, I think. I am working on outlines for a couple of script ideas while I rewrite my first one, and in one case, I can't quite figure out the ending. I like the idea a lot, and it seems to have good story potential. So how common is it to just plow ahead and hope a 3rd act presents itself somewhere along the line? Does that path offer any hope at all, or is my struggle possibly indicative of a flaw in the idea?
It is common to just plow ahead but usually not too effective. Some writers claim they are able to conceive of a story in terms of its ending and write backwards. I wish I could. Even M. Night wrote six drafts of The Sixth Sense before he figured out that Malcolm was dead. The story did not start out that way.
In my own writing, endings arise out of the core questions I am exploring in the script; in other words, endings arise out of theme. If I do not now how a story ends, it means I have not spent enough time developing the theme. Through rigorous work, theme leads the story to what eventually feels like a natural second act complication (notice I say "feels like" – it is usually actually hell developing it). That second act complication usually dictates an appropriate ending. This sort of approach seems to be adopted by many writers who are much better than me including Gary Ross, for one. (I think Craig Mazin is on that list, too. If not, it gives me an excuse to link to a very appropriate post of his….)
By way of example, in Groundhog Day, the central question is "How do you give a monotonous, redundant existence any meaning?" Kind of a central existential question with implications far beyond the storyline. As the protagonist struggles with this question, trying first one thing and then the next – he is led to a second act complication – he falls in love (perhaps the first genuine thing he has ever done) but the woman will never really fall in love with him because the day always starts over. Only by solving his existential dilemma (finding the meaning of life) does he finally win her love. In the eyes of Danny Rubin and Harold Ramis (the screenwriters), life has meaning when we contribute to the world around us. Once the protagonist experiences this, his life once again has meaning (and the physical monotony also ends).
Notice that in Groundhog Day, every scene explores the theme. In fact, given the extremely repetitive nature of the physical setting, thematic development is the driving force that engages us and compels us to follow along.
Similarly, in The Sixth Sense, the central question the screenwriter explores is "How do you communicate effectively with those you love?" Cole cannot tell his mother what is happening to him. His mother cannot effectively speak to him; her anger and confusion gets in the way. Malcolm cannot speak to his wife nor she to him. All of the characters suffer from the same problem; they cannot effectively communicate with each other. As the two protagonists, Malcolm and Cole, explore this central question in various ways, the second act complication arises – Cole must listen to the ghosts without judging them. (Just as Malcom had to listen to Cole without judging him.) Once he does, he discovers he can communicate with his mother and he discovers he can tell Malcolm how to speak to his wife.
As you can see from both of these examples, developing a story around a clearly focused central core (the theme) takes a tremendous amount of work. However, it gets you to the second act complication and from there to an appropriate ending.
Like so many things in screenwriting – this is no shortcut. In fact, it's pretty damn hard to do it right. But that's the way the big boys and girls do it….