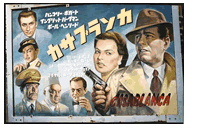 If you wanted to be a rock superstar, you would know a great deal about a great many musicians who preceded you – and their work would profoundly influence yours. If you wanted to be a top athlete – same thing. But when it comes to wanting to be an A-list screenwriter, many emerging writers have very little knowledge of our own important tradition. We stand on the shoulders of giants and knowing the work of these giants, inside and out, is an enormous advantage. Understanding their approaches and techniques gives you tools you might otherwise never develop.
So who are these giants?
The WGA has a list of the top 101 screenplays. Look at the writers of these screenplays. Get to know them.
AskMen.com has a top ten list of legendary screenwriters. The author (whom I initially mis-identified as the scriboshpere's own Craig Mazin, but see below) includes background on each writer. See how many of them you never heard of.
The book Framework: A History of Screenwriting In The American Film is an excellent resource for learning about the giants.
Many of the screenplays of these giants are freely downloadable online. Download them; read them. Learn and enjoy….