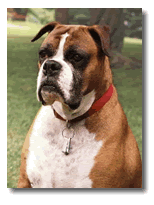 Spec scripts ordinarily undergo a tremendous amount of development prior to being put into the market or presented to any buyers. As the writer, you are personally responsible for most of that development, much of it before anyone other than your private circle ever sees your material. Developing a screenplay usually takes the form of outlining, writing and rewriting. As you near the end of the process, once the story itself is in good shape, you will want to make a number of focused passes, looking at different aspects of the story (e.g. clarity of action, humor, a particular character's dialogue). Different writing gurus offer different "must do" passes. For me, it largely depends on what the story requires.
Nevertheless, there is one pass I always save for last. No matter how hard I've worked on the script, there is always room for this one. It is the "put the dogs out" pass. I go through the script and look at every line that is direct, literal and unimaginative. Instead of rewriting the line, I try throwing it out. Yes, just yank it right out of the screenplay and see what's left. You may think you need those lines, but chances are, you don't. Nine times out of ten, the scene tightens up, more of the story is moved into subtext (where it belongs), the remaining dialogue feels more interesting and more compressed, and the story gets shorter – always a good thing.
To summarize, on the last pass, put the dogs out – all the dogs. Your script will thank you for it.