Someone who uses various names and claims to be from various places asks more than once:
What does Hollywood really think of companies that offer services like InkTip?
The best answer to that is to explain how producers find material. One critical task of the producer is to find or develop quality producible screenplays. This is an extremely difficult and costly job and one that will make or break a company. Keep in mind the following formula:
# of screenplays offered to each producer = Infinite
% of screenplays that are unproducible = 99.9%
Labor required to evaluate each screenplay = 3 hours
Cost of labor = $75+ per screenplay plus executive time
Cost of finding a producible screenplay = substantial
As that formula sinks in, you can see that the job of finding material is a job of carefully using resources. If a producer were to simply evaluate every script that was offered, most producers would go broke before ever finding a quality script. Producers overcome this obvious problem by using filters.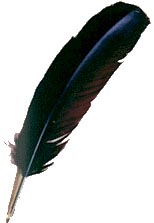 The most recognizable filters are agents and managers. The agents and managers have presumably already filtered out many of the garbage scripts. Therefore, if a producer limits its consideration to scripts that come from an agent or manager, the chances of finding a quality script are higher. However, the agent game is a challenge for the producer, too. First, most agents and managers are not very good filters. They often push inferior material. Second, the agents and managers who are good filters carefully mete out material and usually submit quality scripts simultaneously to multiple producers. The result is that producers often compete for the few strong pieces of material in the market. Well-funded producers have the ability to compete effectively in this environment, but most producers do not.
Other common filters are personal relationships. Producers and their executives develop personal relationships with reliable screenplay sources, whether they be directly with a small number of writers or with a select circle of agents and managers who will pass on quality material prior to submitting it in the open market. This, too, increases the odds of finding quality material with the least amount of resources and this is the most common way material is acquired in Hollywood.
Another potential filter, and the one being urged by services such as InkTip, is the Internet. Some producers have decided for one reason or another that looking through lists of log lines from completely unknown writers for hours is somehow cost effective. The characteristics of material on a service like InkTip are that a higher percentage of it is unproducible (as in almost all of it), but a higher percentage of it is also unknown and, therefore, not subject to market competition. In other words, InkTip is a place where a producer might find that very rare diamond-in-the-rough no one else has spotted. However, once a producer selects your log line hoping to find the diamond-in-the-rough, the producer still has to expend considerable resources to read your script – or at least a small portion of your script – to evaluate it. This substantially limits the value of InkTip to most producers.
The reasons why a producer might actually spend resources evaluating log-lines in a computer database like InkTip are: (1) the producer is looking for specific content; (2) the producer does not like to read screenplays; (3) the producer has no real resources, e.g. no paid readers to read tons of scripts, (4) the producer lacks resources to compete on the open market, or (5) the producer has so many resources that spending some of it on the very unlikely chance of finding a producible script on InkTip or other services is worth the expense. A review of the "success stories" on InkTip's website suggests that most of the producers who acquire material through InkTip fall into categories 2,3 and 4.
Accordingly, services like InkTip do have a small place in the market. However, keeping in mind that the number of screenplays registered with InkTip or any similar service is likely enormous, the likelihood of your screenplay being randomly selected by a producer who actually has the ability to pay you money for the script and/or get your script turned into a movie is about as high as the likelihood of a producer actually finding a producible script on such a service. It is an extreme, extreme long-shot.
The other issue to consider with a service like InkTip is that it's philosophy runs counter to conventional wisdom – at least an agent's conventional wisdom – which is that access to your writing (especially if you can actually write a professional quality script) should be highly controlled so that it is a desired commodity. Once your script is on InkTip, it is not controlled at all. Anyone who meets a few basic criteria has access to it. This tends to devalue it. However, for emerging writers who have no access to producers in the first place, especially out-of-town writers, this is not a controlling issue.
So what does all this mean? Should you or should you not use a service like InkTip? I don't know. Now that you can make an informed decision, that's pretty much up to you.