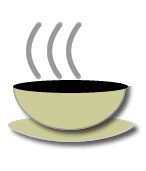 I ran into a writer acquaintance today. We are not exactly friends, but we share mutual friends and run into each other every six months or so. He has written a number of successful movies for A-list stars and has assignments for the next several years already booked, so I always listen when he talks. This time, I ran into he, his wife and their little boy at a coffee shop in a part of town I do not usually frequent. He asked why I was there and, more importantly, where I usually have coffee. I told him about a little coffee shop by the beach. He asked more about it. "Does it have outside tables?" "What is the crowd like?" "Does it get the beach breeze?" I finally asked why he wanted to know. He said, "I'm always looking for a better place to write."
I abandoned coffee shops several years ago, believing myself to be too professional. But this conversation served as a reality check. I used to get an incredible amount of highly focused work done in the coffee shops. In fact, thinking back, I believe it was easier to focus in those days than it is today in my current office, with the phone, the fax, the kid and all the other distractions of life all around. There's something about the din of conversation that acts as a buffer between writing and the world. There's also something about being alone in a crowd. And, there's definitely something about having good coffee, bagels, muffins and, eventually, lunch, all handy just for the asking.
Maybe I'm not too good for the coffee shops. Maybe its time to wake up and smell the coffee.