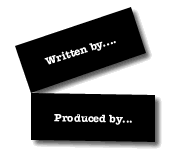 Karen from Atlanta recently commented on this previous post about the pitfalls of giving away free or almost free options with the following:
I wish I had run across this site before trying to renegotiate my expired option with a producer. The 18 month option ($1000 1st day of filming plus 3% net) expired but my script was still prominently featured on the company website and on other sites associated with it. I was pretty brave about what I wanted by email but then he wanted to talk on the phone. He barely got a few words out as to why he didn't want to pay more to continue developing the script when I totally caved, allowing him to keep it for 90 more days for just a $100. I can barely look at myself in the mirror. I'm almost hoping he can't get financing in time so I can just take my script and go elsewhere. (almost) I realize now that because I wasn't willing to walk away (and he obviously could tell) I was really in no position to negotiate anything. Boy, do I need to grow a thicker hide and find an agent. He mentioned that he wanted to pay me out at the end of the extension – the now $700 left – and keep the script. No way would I consider doing that. So, I'm taking the next few months to get myself mentally prepared to let go and start all over. I don't want to, but I'd feel like an idiot just letting him keep my script forever.
She followed up with the following question:
I thought my comment in the "no free lunch" section would get some type of response, even if it was only, "There, there Karen. You're not the first writer to choke in this kind of situation . . ." An actual question would be this: after extension expires, would it be (un)ethical of me to let the producers keep working on developing my script so I could keep "script in pre-production with such & such production company" on my very sparse resume. And market the script under a different title until I got another buyer interested? Then, because the option will have expired just tell current producers to take my stuff off their websites so I can sell to new buyer? Experience tells me that the current producers aren't going to call me when the option expires; they'll just keep working until I call them.
[Standard disclaimer – this is not legal advice, but just thoughts on a blog.]
Before you hang yourself, consider the plus side of your circumstance. You have the interest of producers who paid at least something to work on turning your script into a movie. They are interested enough to try to keep control of it and keep trying to get it made into a movie. All of this suggests you have some writing ability and that is critical to building a career. The usual experience of writers is that the producers talk a good game when they get the free or virtually free option from the writer, but do next to nothing to move the project forward. At least your producers seem to be making an effort.
Your comment and question raise several important issues:
1. Can a producer keep your script if they option it? The answer is, if they meet the conditions for exercising the option (e.g. pay you the money), then – yes – ordinarily they can. However, sometimes making the movie is a condition of exercising the option. In your case, you indicate they agreed to pay you $1000 "on the first day of filming" plus 3% net. Depending upon the language of the rest of your option, it is possible they cannot simply pay you $1000 and keep your script forever without producing the movie. This result is not typical, but the producers may not fully understand how to write an option and may have left themselves open to this. Also, in some cases, the option agreement provides for reversionary or "turnaround" rights even if the option is exercised, in which case you get your script back after a certain amount of time if they do not produce a movie. The exact conditions of turnaround differ and can involve you repaying money they spent on development. As to both issues, you will need to review your option contract plus any subsequent agreements or addendums to see what the language says. Before you agree to anything else at all, you may wish to consult an entertainment attorney.
2. How do you avoid "caving" when a producer asks for an extension? That is what agents or lawyers are for. It is very difficult for the writer, who is attempting to build a creative relationship with the producer, to also negotiate his or her own deal and, in some cases, take a very hard line. Remember, the producer's job is to cut deals. That's what he or she does all day long. You were outgunned from before you got on the telephone. In general, unless you happen to also be a used car salesman on the side, I strongly recommend you use a professional to negotiate your deals. Writers' attorneys often work for a percentage (5-10%) so you do not need to come out of pocket up front.
3. Can you ethically rename your script and shop it even while these producers are working on it? Your ethics are a matter of personal judgment and tolerance. However, as a practical matter, you don't really need to do that. Unless your option contract forbids it, you can present the script elsewhere anyway and tell others that the option is about to expire, which is true. If other interest develops, the new producers will need to wait and see if the old option gets exercised. You can also present the script as a writing sample for the purpose of getting hired on assignment (as in paid) to write a script for someone else. As for your resume, resumes are not particularly important in writing. The script is what counts. In any event, you can truthfully say on your resume that you have an optioned project.
The writing business is filled with complications. You are not alone in your frustration. Over the course of your career, you will have many more difficult, problem deals than pictures produced. It is the nature of the beast. Just keep writing quality scripts, surround yourself with knowledgeable people, and keep the faith.