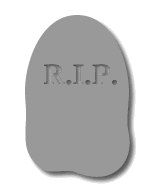 Jeff from Austin asks:
Is this blog dead? I hope not.
No way. Just on "hiatus." This has been a very, very busy year for the Thinking Writer. I plan to return to blogging shortly with a review of two books and software. Until then, my apologies to everyone for the lengthy absence. If you sign up for the RSS feed, you will get notified automatically when the next column is posted.