This from Variety.com: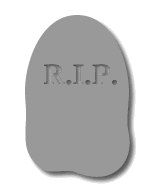 Charles B. Griffith, known for melding black humor in his screenplays for Roger Corman including "Little Shop of Horrors," died Sept. 28 in San Diego. He was 77.

Griffith, to whom Quentin Tarantino dedicated his recent film "Death Proof," also wrote exploitation classics including "Death Race 2000," directed by Paul Bartel"Eat My Dust," starring Ron Howard, which Griffith also directed. and

"Little Shop of Horrors" later became a musical by Alan Menken and Howard Ashman, which was then made into a feature directed by Frank Oz.

Griffith's grandmother Myrtle Vail was a vaudevillian who created one of radio's earliest soap operas, "Myrt & Marge." Born in Chicago, he came to Hollywood to help Vail break into television. After an actor friend introduced him to Corman, he received his first feature writing credit on Corman's "It Conquered the World."

He went on to write screenplays for sci-fi, girlie and action pics including "Gunslinger," "Naked Paradise," "Attack of the Crab Monsters," "Bucket of Blood,""Forbidden Island" and "Beast from Haunted Cave," directed by Monte Hellman. "Teenage Doll," "Rock All Night,"

Griffith played a centrol role in 1960s and '70s film and pop culture — his motorcycle pics "The Wild Angels," starring Peter Fonda, and "The Devil's Angels," with John Cassavetes, served as forerunners to "Easy Rider," and his original script for psychedelic fable "The Trip" was rejected by Corman rejected for glorifying drugs, leaving Jack Nicholson to write the final version. He also contributed uncredited scenes to Roger Vadim's "Barbarella."

Griffith retired in the 1980s to write books, travel and cook.

He is survived by his wife Marmory, a daughter and four grandchildren.