What does that mean, "Is it a movie?" We hear it in pitch meetings, from producers and agents, really all over the place. It is a Sword of Damocles used to fend of approaching concepts. The question isn't really even a question. It is the listener's assertion that your idea/script/pitch is not worthy of a 60 million dollar investment from the listener's studio or from anyone else's. It is a pronouncement that your idea fails to contain some basic element contained in every movie that should ever have been made and every movie that should ever be made in the future. The very question itself suggests that your concept should be taken out with the trash. When you hear, "But is it a movie?", pack your bags, make nice for the next time, and get on the bus home.
But what is missing from your idea/pitch/spec that makes it not "a movie"?
This criticism is a particularly tough one. First, any joe can use it and mean anything he or she wants. Sometimes, it's used just to avoid telling you the hard truth about your script, pitch or idea. Remember, producers aren't out there to train you. They want to find the next picture and get it made. Second, to a large degree, execs who use this do so specifically to avoid thinking in terms of specific analysis. Something like, "If it walks like a duck and quacks like a duck, it's a duck. That's all I can tell you."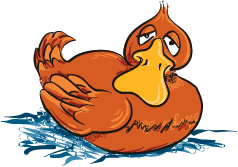 So what do you do if you begin to get this response? Look at your story. Is it clear enough, compelling enough? Is your presentation being understood? Why? Because maybe, just maybe, the exec is right about your pitch. It isn't yet a movie.