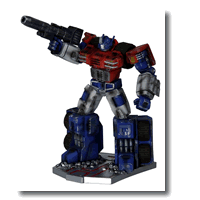 Here's the latest round-up of interesting news around the web:
The Los Angeles Times has a very detailed article about the differences between writing animated features and writing live-action features. Mostly business issues, but these issues impact the creative process, as well.
Then there's this column (disguised as a rundown of weekly box-office) that has some suprising insights on the value (or lack thereof) of having your movie highly hyped on the blogosphere.

And speaking of online promotion, for once, a studio allowed the screenwriters to make major announcements about an upcoming movie, in this case, the Transformers movie. It is unusual for the writers to play a signifcant role in the promotion on any mainstream studio picture. The more this happens, the better for screenwriters.
Finally, here's an article on how to get a foot in the door for unproduced screenwriters.