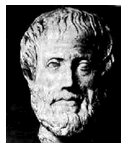 Chris from somewhere asks:
Character motivation — how do you make sure the characters are sufficiently and plausibly motivated?

Too many of my stories start with the main character deciding he "wants to do something," and this leads to the main plot. I'm starting to realize this type of motivation isn't very strong, and I haven't been able to make a good story about someone who just "wants to do something," no matter how bad they want it.

Does that make sense? I think it's a problem of motivation, and I think people can tell when a story hinges on a character doing something that they really didn't have to do, particularly when there are many other things the character could have done that were a lot easier, less dangerous, but unfortunately less interesting.

For example, to make money the character decides to start a porn business instead of simply taking a job as an accountant, for which he has training. Or any other job. Like flipping burgers.

Thanks!
When in doubt, ask Aristotle. In his Poetics, Aristotle says:
Tragedy is an imitation of an action that is serious, complete and of a certain magnitude.
The goal of your protagonist must be "of a certain magnitude". It must be important to him or her. It is not merely something he wants, it is something he is compelled to do. His or her drive must eventually arise to the level of compulsion and obsession. Your protagonist will do anything, suffer to any extent, pay any cost to achieve his or her desire. It takes that level of commitment from your character to keep him motivated.
That level of compulsion/obsession does not come merely from external forces. It comes from something deep inside the character that he or she must do in order to be a complete person. And we as an audience must sense his deep need and know he must do this thing for the sake of his very being. Our understanding of his need is what makes us want to see whether he achieves this goal.
For example:
Sixth Sense – Malcolm believes he is a fraud and that he failed the first boy. When a second boy with the same problem comes along, he must help him in order to redeem himself. He cannot live with himself is he does not help the boy. He is driven to help Cole and suffers until he does so.
Gladiator – Maximus must exact revenge on Commodus. His happiness in the afterlife depends upon it. If he does not, he will not be happily reunited with his family. He is driven to obtain his revenge and suffers until he does so.
In The Line of Fire – Frank must protect the president at the cost of his own life. He does not know whether it was his cowardice that changed the world for the worse (when Kennedy was shot and he did not take the bullet). He will suffer until he answers that question by proving he is not a coward. He is driven to hunt the man who will shoot the president and driven to put himself in harms way to protect the president. It is not mere choice; it is compulsion.
The same compulsion you have to be a writer….